Roy Layman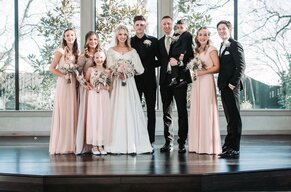 I first came to Grace Bible Fellowship in 2008 to serve as the youth pastor. Since 2010 I've had the great privilege of serving here as pastor.
My wife Casey and I have been married for 23 years and have 5 kids ranging in age from 22 to 2 years old. Casey is my best friend and the most servant-hearted person I know. She works as a nurse and is a great mom to our kids. She and I serve as foster parents. We share a heart for kids, missions and joy in Christ.
I made a public profession of faith in Jesus Christ as a child, but it wasn't until the spring of 2000 when I was 23 years old that the Lord got my attention in a big way. He opened my eyes to the depth of my sin, his amazing grace found in Christ alone, the value of the Bible, and the Glory of God. God has redeemed me and continues to redeem me, I'd love to share that story with you sometime!
My education includes Fire Academy and EMT school (way back in the day). Plus, I took just about every class Grayson County College has to offer. Since beginning in ministry, I've attended Luther Rice Bible College and Criswell Bible College, but the bulk of my ministry training came through programs offered by Denton Bible Church. I have a diploma from The Bible Training Centre For Pastors and have completed Tommy Nelson's (Pastor at DBC) 'Young Guns' program as well.
In my spare time I enjoy watching sports, especially high school football #TPW and the Dallas Mavs. I love all kinds of music, Blue Bell ice cream, fishing, hiking, and pretty much anything outdoors.
I love sharing life and faith with the people of Grace Bible! Having lived here in Grayson County my entire life, I have a huge heart for the people of this area, MY PEOPLE. My goal is to TEACH the Word, LOVE people and PRAY for the Spirit to move here at Grace Bible as long as the Lord sees fit. My philosophy of ministry is to be BIBLICAL, RELATIONAL, and FUN.
Q Layman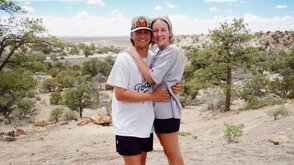 I joined the Grace Bible staff in December of 2020. I serve as the Worship and Student Pastor.
I met my wife, Caroline, at college and got married in March of 2021. I studied at University of Arkansas where I got my degree in Communication. I put my faith in Christ when I was seven years old, on a mission trip in New Mexico. I have been following Him ever since. In my spare time in enjoy music, thrifting and watching the NBA.
Lara Martin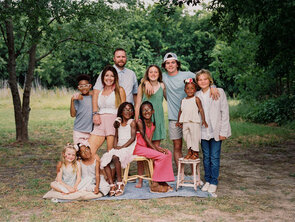 Grace Bible has been my home all of my adult life. My husband, Jarod and I have been married since 2004. We have nine kids and are beyond thankful for them.
I love to travel, eat good food, the ocean and to watch my family enjoy life. The Lord has been so kind and gracious to us! Not only to call us out of darkness, to let us see His goodness in the land of the living and to sustain us! He has been so, so good.
Stefanie Franklin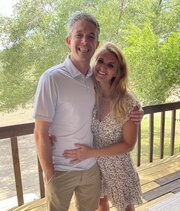 I am beyond honored to serve as Grace Bible's Children Director! I vividly remember accepting Christ as my Lord and Savior at the early age of four as a direct result of a Sunday School teacher sharing the good news of Jesus with me and my parents then following up on that lesson and praying with me on a late Sunday evening. I am forever thankful for that Sunday School volunteer and my family for pointing me towards Christ! And that is why I am passionate about introducing children at an early age to Jesus so they have the immeasurable privilege of knowing Him their entire lives! I am eager to also come alongside families to help encourage and partner with one another on this mission to raise and disciple our children in Christ.
I graduated from Biola University where I earned a degree in Communication Studies and Bible. I've been a teacher, Chapel Coordinator, Camp Director, and Marketing Coordinator.
I was born and raised in California, but married a native Texan, Greg! We met while working at a kids' camp together and it's a dream to be able to continue to have all the fun and serve children together still! We were married in 2010 and have three amazing kiddos of our own who keep us busy and laughing all the time!
Ashley Cain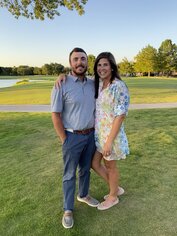 I am truly overjoyed to serve as Preschool Director at Grace Bible. As a parent to preschool aged kids myself, I relish the opportunity to not only teach young minds about Jesus, but to also provide parents with a peace of mind dropping them off so they can be spiritually fed too.
I was raised right here in Grayson County in Sherman! My husband Blake and I got married in 2012, we started dating our freshman year of college and have been laughing ever since. We have two kiddos that provide plenty of entertainment and laughs now too. Before I stayed home with our kids, I taught kindergarten and first grade for 10+ years!
I gave my life to Christ at church camp as a kid! I know that without volunteers and teachers laying out sound theology and displaying Christ's love it wouldn't have been a decision I reached as young or easily as I did. I'm eager to role up my sleeves and serve alongside those in our church family who want the same for our kids at Grace!